Washed cheese are simply cheeses that are washed as they age. Though the process may sound simple it is complex and labor intensive.  Over weeks or months, washed cheese are meticulously hand washed with special liquids that infuse and/or aid in the production of aromatic compounds in the cheeses.
We divide our Washed Rind Cheese into the two categories of Cultured Wash and Non Cultured Wash.
Non Cultured Wash Liquids  do not contain flavor-developing bacteria so their function is to directly add the flavors of the wash to the cheese.
Cultured Wash Liquids contain bacteria that affect the composition of the cheeses to create unique tastes. Often Culture Washed cheeses are pungent, a characteristic attributed to aromatic compounds that are developed though biochemical reactions.
Non Cultured Wash Cheese
Citrus – Washed with a mixture of tangerine and orange juices, this cheese has a unique citrus flavor and appearance.
Kawa – Washed with Bali Arabica Espresso, this cheese pairs the earthy aromas and flavors of fine coffee with the rich flavor of a mild Cheddar Cheese.
Culture Washed Cheese
Matahari – Similar to some of the most pungent cheese of Europe our Matahari cheese is a strong Trappist-style washed cheese. This cheese, with its distinct yellow to orange rind, reminds us of the Sun and thus it has been named Matahari.
Other Washed Cheeses that we make include Maja, ILY, Tomme, Raclette, Saint Nectaire, Taleggio, and Alpine, and Sake Kasu .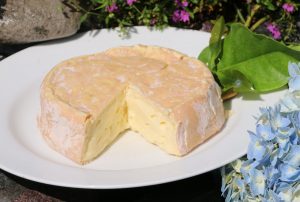 Salads
Spreads
Dips
Baked as appetiser
Cheese Board