Cheese Platters and Displays
With a large selection of fine cheeses and over 30 years of professional catering experience, our team is here to serve gourmet cheese.
We are able to produce and set small platters as well as cheese tastings for thousands of guests.
Everyone has different taste, needs and often budgets to work with. We understand these needs and design menus and quantities to meet our customers' needs. In addition to cut cheese we offer multiple types of platter and display options.
Please feel free to contact us with your requirements and we will do all that we can to accommodate you.
We offer
Small portions of cheese for you to cut and display yourself
We offer cut cheese for you to display yourself.
We offer cut and arranged cheese on new platters or boards that are yours to keep
We offer large cheese displays of cut cheese arranged on borrowed platters or boards  (minimum 250 guests). 
For large events we offer serviced cheese displays, where Pasti Enak cheese mongers will be onsite to replenish cheese as needed.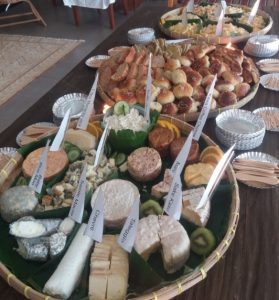 Large Cheese Display Example
Cheese Platters and Displays
Cheese weights per person vary by the type of meal or snack you are looking to accent or serve. Weights will also vary by the Nationality of the guests.
Light 50 grams per person  (10 cubes or 5 slices of soft cheese)
Served as an  appetizer along with other appetizers or as a dessert.
Medium 100 grams per person (20 cubes of cheese or 10 slices of soft cheese)
Served as a starter to a meal of as a stand-alone appetizer
Large 150 – 200 grams per person
This weight range is used when serving Fondue or when Cheese is served as the main dish.
This weight range is often used when serving European guests who love great cheese.
Serviced Displays
Base rate will apply and will be calculated specifically for your event. As cheese is consumed, the host of the event may request additional cheese to be added to the display. The cost for the additional cheese will be added to the base rate when totaling the invoice. Please note all cheese that is opened / cut for your event will be billed and yours to keep. Unfortunately according to our Government approved SOPs  cut and opened cheese may not be brought back to our facility or resold.